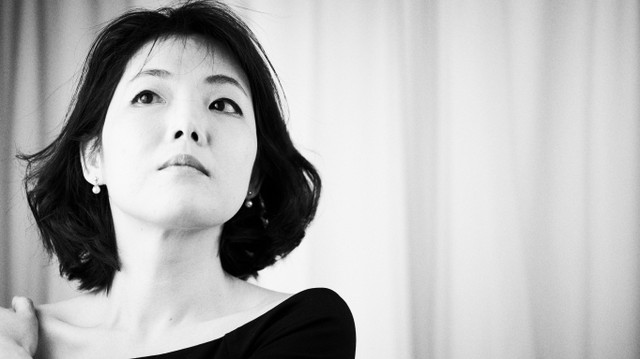 Chie Tsuyuki was born in the Japanese district of Mie. At the age of five she had her first piano lessons. Her enthusiasm for composing was the reason for her to additionally attend composition lessons at the age of seven. Professor Takekuni Hirayoshi gave her lessons in composition until she was 14 years old and profoundly influenced her artistic development. From 1991 to 1995 she studied piano with Professor Kazuko Morikawa. During this time she was awarded several prizes, for instance the first prize and the "Yomiuri" special prize at the 17th PTNA piano competition in Japan. It was not until the age of 15 that she decided to become a professional pianist.
In 1996 Chie Tsuyuki started her piano studies in Germany at the Johannes-Gutenberg-Univesität in Mainz with Professor Francis Bamberger, a student of Wilhelm Backhaus. In 1998 she attracted the attention of Professor Konrad Meister at the "Internationale Goslarer Klaviertage". He invited her to study in his class at the Hochschule für Musik, Theater und Medien (HMTM – academy for music, theatre and media) in Hanover, where she attended his class until his death in 2002. Afterwards she continued studying with Professor Einar Steen-Nökleberg and was admitted to his solo class in 2003.
Chie Tsuyuki accepted invitations to various music festivals, which offered her the opportunity to cooperate with the conductor Christoph Stepp in 2000. Together with him she twice performed Mozart's last piano concerto at the 49th German Mozart Festival. Chie Tsuyuki received numerous awards at international competitions and was, for example, the award winner of the competition "Ibla Grand Prize" in Italy. This gave her the possibility to go on a concert tour in Canada in 2004 – a tour which was sponsored by the "Japan Foundation Canada" and was much acclaimed by the press and the audience. Further concert tours took the young pianist round Europe and the USA. After her debut at the Carnegie Hall the New York Concert Review wrote about her interpretation of Liszt's Sonata in H minor: "… Ms Tsuyuki's interesting and personal ideas about the music, which took it out of the realm of the standard Liszt readings that if not imaginatively performed, can be deadly, and elevated it to great art". At the moment, Chie Tsuyuki teaches a piano class at the Institut für Musik (institute for music) at the academy in Osnabrück, Germany.